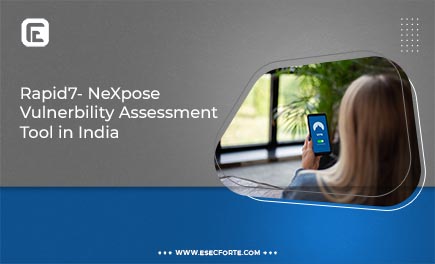 Rapid7- NeXpose VA Tool
Bangalore VAPT Services : Rapid7, a provider of unified Vulnerability Assessment Software has partnered with India based IT security solutions company, eSecForte Technologies. As part of the deal, eSecForte is serving as a value added Distributor for Rapid7 NeXpose.
Additionally, eSecForte already launched a managed security service using Rapid7 Technology and expertise to bring advanced Vulnerability Management Solutions to the Indian market, where sophisticated attacks plague web applications, networks, databases and operating systems. With its ability to scan the broadest level of assets available, while at the same time prioritizing vulnerabilities and devising clear remediation plans, Rapid7 NeXpose gives eSecForte customers the visibility into their IT infrastructure that is necessary to mitigate risk and minimize data loss.
eSecForte's new managed security service, built on Rapid7 NeXpose will enable customers to run scans from a secure, hosted environment using a simple web browser, reducing the need for hardware or software installation. From there, security consultants can offer analysis and guidance, and suggest mitigation steps based on the found vulnerabilities.
Rapid7 NeXpose reduces false positives and provides detailed mitigation reports based on risk level, unlike other Vulnerability Assessment Software . As a result, IT administrators can focus on the threats that can cause the most damage by eliminating high-level weaknesses in their IT environment before the network is penetrated and sensitive information is compromised.