Network Security: Overview
eSec Forte offers a comprehensive network security solution that safeguards networks of IT organizations, big and small. We understand the potential entry points of attackers and devise a solution that can safeguard your networks and detect threats before breaches occur. eSec Forte protects businesses from potential disruptions, heavy fines, and loss of reputation due to network attacks by keeping networks functioning properly
Network Security: Challenges
Challenges are management of network and security in an infrastructure that is scalable, achieving advanced threat prevention to secure 5G and IoT mobile networks, delivering consistent network protection across all locations, staying prepared for unknown network threats, and getting complete visibility across multiple deployments points in the network.
How can we help?
Our network security solutions at eSec Forte helps you secure all the networks in your enterprise
from a centralized location through next-generation firewall security protection. Our comprehensive
industry-specific solutions make effective use of your resources so adapt to your evolving network speeds
and capabilities. We at eSec Forte implement AI and machine learning to block advanced phishing attacks,
malware and threats. Our network security include:
● Network defense, monitoring, policy implementation and intrusion detection.
● Anti-phishing testing, training, education, threat detection and implementation of remedial measures.
● Internal and external scans, application testing, threat analysis and reporting.
● Design of entire network security layout and architecture.
● Managing network forensics, investigation, incidents response and malware analysis.
Features of our Network Security Services
Benefits of our Network Security Solutions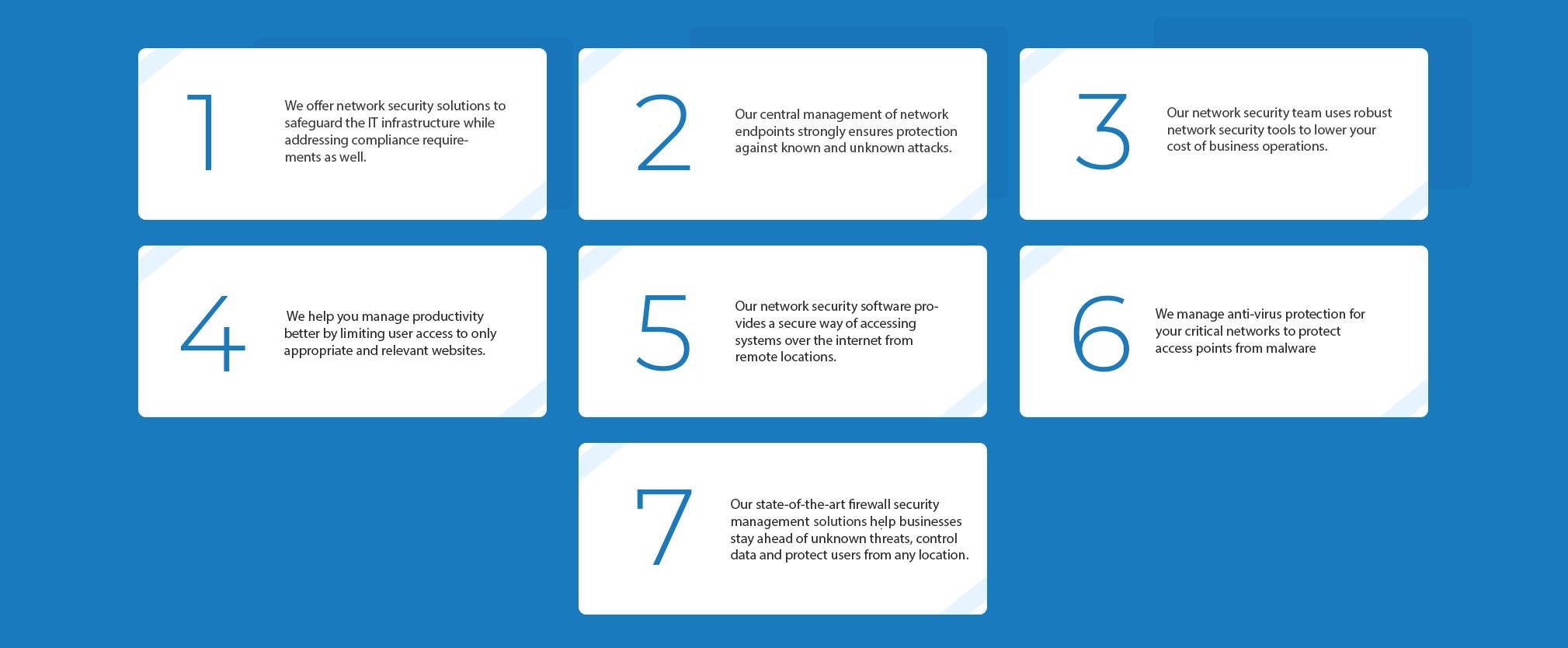 5 W's of Network Security
1. How does your network security solution work?
Our solution combines several layers of defenses in a network. Each security layer implements certain policies and controls. Our solution helps authorized users obtain access to network resources and malicious users are blocked.
2. How can my business benefit?
With digitization of data and communication, every organization that delivers services to its customers needs to ensure the security of its network. It not only ensures protection of critical data but also company reputation.
3. What are the different types of network security that you provide?
Our services include Firewall security, Email security, Anti-virus software, Access control, VPN security, and wireless security.
4. What are the main features?
The main features of effective network security software are Identity of users, data privacy, security monitoring and policy management.
5. What are the main reasons that result in network security problems?
The main reasons for problems arising are unknown users, abuse of user privileges, lack of deep defense, unmonitored security vulnerabilities, and inadequate security management.
CONTACT US TODAY TO LEARN MORE
ABOUT OUR PRODUCTS AND SERVICES.