Digital Guardian DLP
Digital Guardian DLP offers unprecedented data visibility and control at the endpoint
Digital guardian DLP (data loss prevention)
Having your enterprise data compromised is something which is not in your hands but not to lose that data is in your control. Digital guardian DLP provides you everything that is needed to ensure the sensitive data of your organization is not lost. It gives you complete control, deep dive visibility and data loss protection coverage to ensure the data is safe.
The high-end technology ensures the data is captured and recorded across all systems – be it on or off network. It can be automatically set to detect and block any suspicious activity before the data is lost. The data loss risk at the end point can be mitigated with this.
What is Data Loss Prevention?
Data Loss Prevention or DLP first came into the market in 2006 but gained popularity only around early 2007. DLP can be defined in many ways but the most apt and accurate would be the content level visibility into the network. As compared to other firewalls and security features, what makes DLP the preferred tool is the accuracy with which it identifies the threats to the organization based on the sensitivity. It basically acts upon the content which can be crucial for the organization.
While it may seem DLP is mainly used for data prevention, it actually does much more than that. It identifies the breaches along with any broken links or gaps in the process. DLP helps to ensure the data policies are well adhered to and not compromised.
Schedule a demo with us
You can connect with us for live product Demo and more information
Features of Digital Guardian DLP:
DLP Digital guardian Platforms
End Point DLP
Like the name suggests, end point DLP provides complete and comprehensive coverage of your data. The exhaustive solution offers complete visibility to data across all the systems in order to develop solutions accordingly. Everything is done under the same cloud system hosting all the applications. It detects all the threats and blocks them in order to concentrate on the ones which are actually important and can hamper the systems adversely.
Data Discovery
Data discovery is a process used to understand and detect patterns based on analytics and apply guided analytics further for protection. With the help of data preparation and data integration, organizations can connect to various data sources externally. Data discovery not only provides solutions but also supports in understanding various complex algorithms in order to develop solutions around them.
Network DLP
Digital guardian network DLP reduces the risk of data loss to a huge extent as it supports compliance and also monitors and controls the flow of information across the network. It is so easy to install that it hardly takes few hours to provide complete protection to the sensitive data. Once installed it does not even require any administration as it is capable to work on its own.
Data Classification
It is a model which ensures data is classified and marked according to the relevance, which further aids in effective protection. It not only makes it easier to understand data across all functions but also helps in prioritizing it as per the urgency. The tagging involved helps in reducing data duplication and also saves time while searching.
Cloud Data Protection
It is a data protection model which ensures security of all the data across the cloud -be it moving, stored or live. It eliminates any risk of data forgery and ensures the data is kept as it is. It also provides data logs for all kinds of data and all the events are recorded.
End Point Detection and Response
This being a relatively new solution category for data protection, it focuses on detecting data breach on end point. It is helpful in doing continuous monitoring of data and provides responses to threats. It is a form of an advanced data threat protection.
Request a Demo
eSec Forte Technologies is an Cert-In Empanelled | CMMi Level 3 | ISO 9001:2008 | ISO 27001-2013 certified Cyber Security and IT Services Company, Having headquarters in Gurugram, Mumbai, Bangalore & Delhi – India. We are Value Added Partner of Digital Guardian.
Contact an Expert
Digital Guardian DLP Dashboard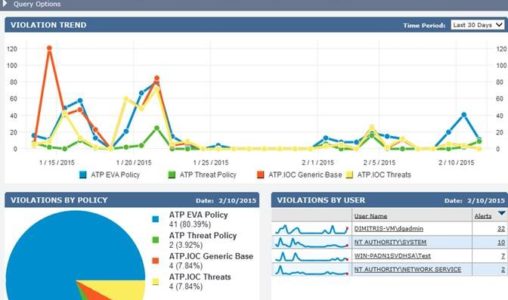 Digital Guardian DLP Video
Benefits of Digital Guardian DLP:
Customer reviews
"eSec Forte is our standard. Whenever an cyber security services is needed, the answer is always, let's start with eSec Forte."
"There is absolutely no impact on the performance or usability of applications. I am very excited at how easy the solution is to deploy and always performed flawlessly. by eSec Forte"
Why you need data loss prevention?
DLP is required to have a complete automated set up of your data across functions. It can significantly reduce the expenses which are incurred towards setting up remedies for sensitive data breach.

With so many cyber threats and attacks, the sensitive data of the organization cannot be compromised as it may result in complete shutdown of business. DLP helps in transporting data to a safe and protected location, if found to be in an unprotected one.

It eliminates any manual interventions which are prone to risks. The system being completely automated, DLP removes any risk of breach ensuring your sensitive data is completely safe.
Why Digital Guardian?
DLP digital guardian is one of the best solutions available in the market today providing all-round protection. It not only provides visibility but also provides end point visibility into threats. Digital Guardian software's real time analytics provide flexible control over data events and develops features based on the requirement. Digital Guardian data loss prevention provides complete control and visibility irrespective of what the users are using and whether they are on network or not.
Digital Guardian Pricing
DLP can be purchased from its verified and trusted vendors Digital Guardian who have been pioneers in the industry. Its pricing is basically divided into three models and they will be able to assist you with the detailed structure which is basically divided into 3 models:
Perpetual Licence: It requires the customer to pay at the time of purchasing the software.
Subscription Based: Under this model customers are supposed to pay a monthly based fee and this is accessed over the internet.
Commercial: Under this pricing model you can own the software free of cost but will be on your own from there. No back up support will be provided.
We are headquartered in Gurugram, Mumbai, Delhi, Bangalore – India. Contact our sales team @ +91 124-4264666 you can also Drop us email at contact@esecforte.com .
We Want to Hear from You !!
Contact us today to learn more about our products and services.
Contact Us