Red Team Assessment Services
Red Team Assessment Services helps to identify, How your security performs under real-world attack?
Red Team Assessment Services: Overview
Red Teaming term originated from the military field and means an amicable assaulting team, which assesses the protection of computerized foundation. It is performed by white hat hackers mirroring the conceivable activities of evildoers. Red Team Assessment Services team consists of such white hat hackers.
Red teaming Security Consulting is the method of testing policies, plans, assumptions, and systems. It is a multi-layered attack simulation that tests how well the companies systems and people are equipped to handle a real cyber attack. In other words, Red Teaming is Ethical Hacking, performed without already informing the employees or preparing the existing systems in any way. This simulates a very real situation of how the company would fare in case of an attack, at this very moment.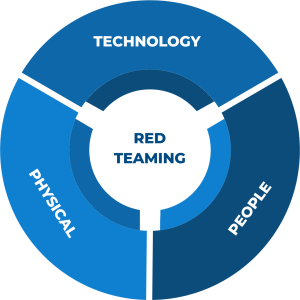 Red Team Assessment Methodology
Why do Organisations need Red Team Assessment?
Advanced Persistent Threats [APTs] can't be relieved by standard security programmings like firewalls and antivirus, and they are intended to highly affect associations, which consolidate to speak to high hazard to any association that is profoundly dependent on ICT, has huge data resources, and basic IP, or are dependent upon web platforms for client interface and transactions. Associations must acknowledge that APTs are probably going to be fruitful and in this way think about the suggestions and likely attack situations. A few firms will guarantee mindfulness however their full thought is deficient. Red Team Assessment Services is the necessity of organizations to get insured from real-world attack.
Hiring an external agency of "hackers" to break into your computer systems, on which you have spent millions of dollars to secure, seems like a really absurd plan. But sometimes, the best way to know if your system is secure is to find someone capable enough to try and break in.
"It makes sense for large organizations, but we're a small 50-100 people team. Who would want to attack us?"
Because of this very assumption, smaller companies are usually unprepared and most of the time, unprotected from cyber attacks. It's better to be prepared that you suffer the damages in case of a real attack.
Goals of Red team Security Assessment
The end goal of a Red Team Security Assessment operation is to:
Question your company's opinions and recognize flawed reasoning or flawed interpretation.

Evaluate the robustness of the evidence base or the state of your data.

Recognize alternative choices and/or investigate the outcomes of an action plan.

Examine your networks, systems, applications, and more from an attacker's perspective.

Understand the possibilities for an attacker to breach in and move within your systems.
Benefits of Red Team Assessment
Red team exercises rapidly banish any complacency in an organization, and focus attention on planning & investment priorities which will have a clear purpose

By creating a broad acceptance of vulnerabilities, such an exercise builds organization-wide consensus & awareness without having to learn from 'painful experience'

A more defined perspective on current attack scenarios and potential business consequences

Red Team exercises build confidence within an organization, from shareholders down to the security & business continuity teams, that preparation, planning and investment are appropriate to the task.

Better risk understanding and management from the board level where greater involvement will create better prioritization, and use of budgets & resources
Our Approach
We follow a comprehensive risk-based approach to manually identify threats and vulnerabilities in your networks, hosts, systems, applications and physical assets. Along with manual testing, some of our tests involve utilizing tools and automation during the initial phases of testing to provide efficiency. The rest of the testing is conducted manually to replicate an attacker's actions accurately. Once all the testing is done, we provide you with a comprehensive report that helps you understand all the methods we utilized, all the methods that failed, and the ones that let us break into your systems. After this entire process is complete, you can be sure that your systems are well equipped to handle any malicious attacks in the future.
Deliverables of Red Team Assessment Services
Thorough Red Teaming Services expose risk and possible vulnerabilities in:
1. The workforce
People are the weakest source of security in any organization, and most of the time, the easiest to break into. After the Red Team has performed their tests, you'll get insights into how easily hackable the people and perimeter of your company are.
2. The networks, and the systems
Red Teaming Services specifically simulate attacks from a malicious hacker's perspective and try to find any holes, vulnerabilities, or bugs that could let them take control of the systems or take the systems down.
After a red team has completed their services, you get a comprehensive report detailing all the vulnerabilities that were found and the steps you can take to fix them.
eSec Forte Technologies: Red Team Assessment Company
We offer you all the red teaming services you'd need for your organizational safety.
Experience a real-world attack without any harmful results.

Get Secured against advanced cyber threats.

Get a full detailed report for your security strengths & weak points
eSec Forte Technologies is a CMMi Level 3 | ISO 9001:2008 | ISO 27001-2013 certified Cyber Security Company and IT Services Company with service offerings in Information Security like VAPT Services, Penetration Testing Services, Vulnerability Assessment Services, Amongst our clients we proudly count Government Organizations, Fortune 1000 Companies and several emerging companies. We are also Value Added Partners, Authorized Resellers & Distributor of Leading Security Testing Tools.
We are headquartered in Gurugram, Mumbai, Delhi, Bangalore – India, Sri Lanka & Singapore. Contact our sales team @ +91 124-4264666 you can also Drop us an email at [email protected] for Vulnerability Assessment & Vulnerability Management Services at your Enterprise, Network, Application etc.
Contact us today to learn more about our products and services.
We are headquartered in Gurugram & Regional Offices in Mumbai, Delhi, Bangalore – India.
Contact Us