Life At eSec Forte Technologies
As a global IT Consulting Company, we are looking for talented individuals to join our team – from recent college grads to industry veterans. Whether you  are looking for a full-time,  consulting, or contract position, we have a host of opportunities for you to explore.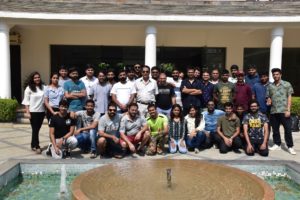 Open Positions at eSec Forte Technologies
Information Security Consultant
Experience– 3 to 10 Years
Salary– 3 to 10 LPA
Location– Gurgaon & Mumbai
Job Description:
Good understanding of information security and its impact on IT Infrastructure and business process.
Experience to perform network architecture reviews.
Experience with penetration testing and configuration Audit
Experience with tools like Nexpose, Metasploit, Nipper, Burp, Acunetix, Fortify etc.
Hands-on with script development using languages like Perl/Ruby/Php/Python would be an advantage
Should be well-versed with OSSTMM / OWASP / SANS / CIS Benchmarks
Good understanding and experiences with Risk assessment and management, Audit (both internal and external); policy, procedure and standards development, security strategy and security awareness campaigns.
Understanding of Application security / experience with application penetration test will be a plus.
Desired Management Skills:
Good analytical and problem solving skills; excellent communication and influencing skills.
Experience in handling at least 10-15 people project team
Experience in handling multiple projects / clients simultaneously
Experience in handling projects in multi-geographies (E.g. South Asia, Middle East and USA)
Excellent time management and prioritization skills
Willingness to travel across geographies
Sales & Pre sales Executive
Experience:  0 to 5 years
Location: Gurgaon, Bangalore.
Skills Required-
·      Has an informed opinion on new tech use cases in the industry.
·      Excellent communication- written & Interpersonal and good organizational skills.
·      Strong skills in Microsoft Office and knowledge of social marketing
·     Strong skills in making creative Presentations
·     Prior sales experience in Government/ Enterprise accounts shall be preferred
·     Past experience in Tenders/ Bid submissions in Government/ Enterprise accounts
Consultant - PCI DSS
Location: Gurgaon, Mumbai, Bangalore
Experience: 3 to 7 Years
Job Description:
Performing Vendor Risk Assessment & Reviews for Internal and External client vendors as per ISO 27001, PCI DSS, HIPPA, RBI, GLBA etc,
Prepare audit reports and work papers with the process owners to close the findings.
Responsible for preparing Report on Compliance (RoC), Attestation of Compliance (AoC), or both.
Required Skills:
Experience with a complex risk-based approach to internal and external compliance efforts
Proven analytical and organizational skills to independently work on multiple projects, and meet deadlines while ensuring quality results, is expected.
Must have familiarity with systems, networks, and a variety of the security concepts, practices, and procedures
Demonstrated ability to apply IT-related knowledge and experience in solving compliance issues
InfoSec Consultant
Location: Gurgaon
Experience: 1 to 5 years
Job Description:
Internal audit role, should know about information security technical controls and testing such controls, e.g: Know how – AD, Firewall, IPS/IDS, routing, Policies implemented in a system, DLP controls etc are working and should be able to test the effectiveness of these controls in the environment.
Application Security
Location: Gurgaon, Noida, Mumbai, Pune
Experience: 1 to 5 years
Job Description:
Hands on experience in performing application security assessment on web based applications, mobile applications.
Good understanding of OWASP TOP 10.
Analyze scan reports and suggest remediation and mitigation plans.