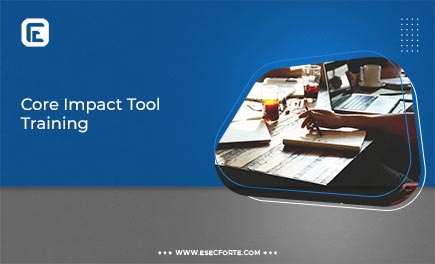 Core Impact Tool Training
Core Impact Training
eSec Forte provides training for corporate and Industry experts for various Security tools. We are soon organizing the Core Impact training session for corporate professionals. This training will cover the introduction, features, architecture of Core impact. aids in performing penetration testing by providing a controlled environment to ensure a defined concept is conceptualized. It not only provides protection but also increases the productivity of the team by elevating the quality. Product Demo is also provided
Who should attend?
This training session is highly recommended for IT consultants, CISO, Security consultants, and Organizations. It will provide you the opportunity to go through the product demo, features, and architectures. It will also help you understand, How the tool will be beneficial to an organization.
What does this training include?
Product introduction
Guide attendees on how to use the Core impact as a penetration testing tool.
Help users to effectively use this tool to protect IT infrastructure more effectively.
Expand personal skills  as a penetration tester
Product Features
Key Points for Training :
Training is provided by a highly experienced and skilled Cyber Security professionals.
Seats for core impact training are limited.
Fill the registration form to registered for any training provided by eSec Forte.
Date and Location will be provided once you registered for the training
We keep on providing training for various advanced security tools regularly. You can subscribe us to keep yourself informed about the training schedule.