OT Security: Overview
We at eSec Forte understand the significance of improving your operational technology security to ensure digital success. Our quality testing and security solutions offered by our test professionals can help you apply best security practices to your organization that can guarantee OT security across departments, processes, and technology.
OT Security: Challenges
Operational Technology has integrated with IT, increasing the need for OT security to improve its connectivity to OT. OT security enhances controlling and monitoring of devices, processes, and events such as Data Acquisition (SCADA) and industrial control systems but network communication to OT has its own challenges. Over 70% of organizations do not have an OT risk assessment procedure in place, over 78% of companies do not have OT policies and over 80% do not have an Operational Technology specific security response plan in place. Several OT teams are not aware of security while IT teams do not know operational processes, leading to a major skill gap. Cyberattacks on SCADA and ICS can impact the safety and reliability of the entire value chain. Some other challenges to Operational Technology security are lack of visibility into all OT systems, remote maintenance of OT systems, inability to effectively address security issues, sharing of OT network infrastructure between systems and different OT environments within the same company
How can we help?
We help achieve in-depth Operational Technology network visibility to instantly assess common vulnerabilities
for assets. We implement documentation of the entire communication framework and
operational risk scoring to reduce analyst workload. We follow procedures for real-time
threat detection and constant monitoring of threats and risks to the OT network.
Features of our OT Security
Benefits of our OT Security Solutions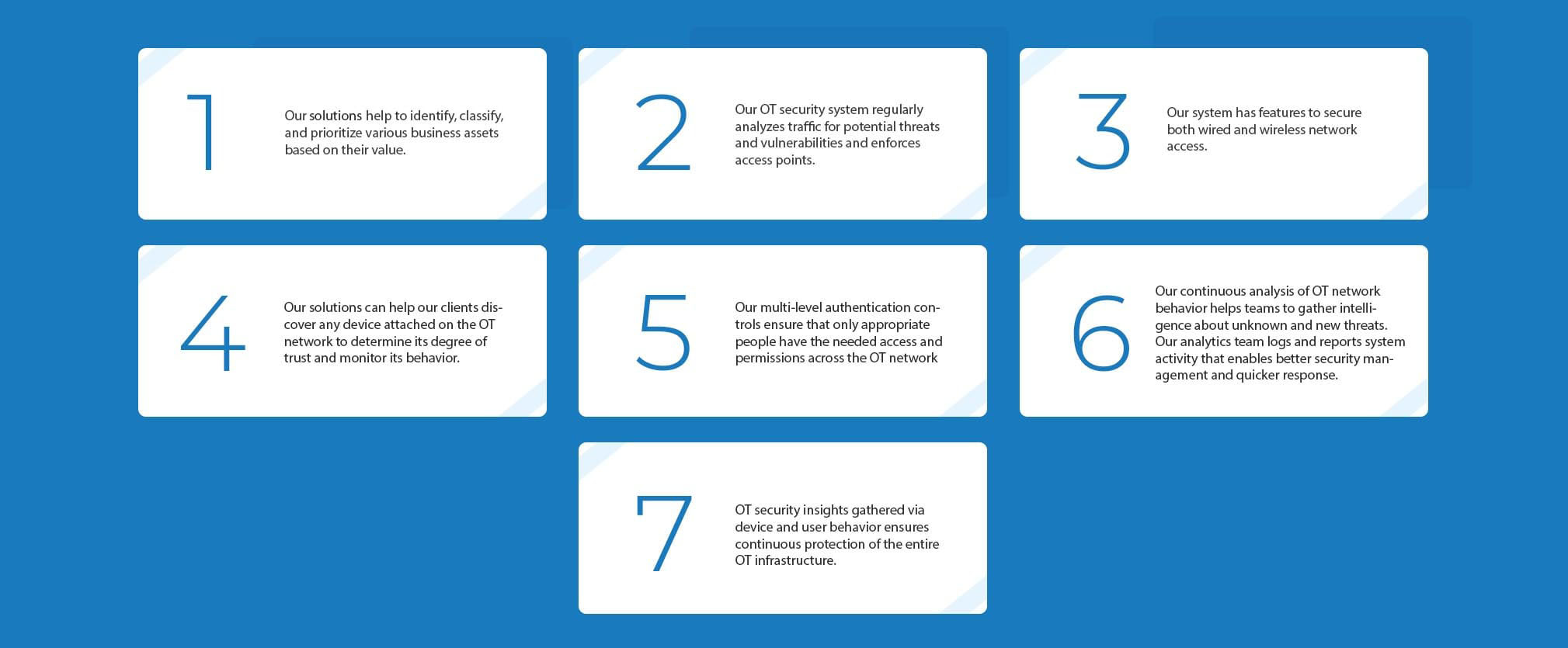 5 W's of OT Security
1. Do you deploy Operational Technology security solutions on every asset in an organization?
In most cases, we deploy our Operational Technology security solution for mission-critical assets only, but we do assess your environment to make the final determination.
2. How do you perform network segmentation?
A segment is identified based on a group of assets that share common security requirements based on physical location, logical function, and criticality.
3. What asset discovery techniques are typically used?
eSecForte typically uses both passive and active asset communication and discovery techniques.
4. What does your risk assessment consist of?
We at eSecForte provide on-site cyber security risk assessments that offers an understanding of Operational Technology network exposures and related cybersecurity risks that can lead to operational disruption.
5. Does your solution identify all security vulnerabilities and exposures?
Our Operational Technology security platform is designed to identify all common and uncommon vulnerabilities in your OT systems that can possibly impact its performance.
CONTACT US TODAY TO LEARN MORE
ABOUT OUR PRODUCTS AND SERVICES.