ARCSIGHT SIEM TOOL
ARCSIGHT SIEM: SECURITY INFORMATION AND EVENT MANAGEMENT SOLUTION
Arcsight SIEM Tool Security Information Event Management
HPE ArcSight is a tool designed for collecting security log data. With the fast paced environment, it is extremely important to have a tool which can act at a lighting speed and collect threat details in order to mitigate data risks.
ArcSight SIEM Tool is for security information and event management also known as HPE ArchSight SIEM tool which identifies the security threats in no time and allows the organization to work around the remedies in a quick fashion. It collects data from the various sources like applications, security technologies and operating systems and analyses it for the signs of any threats or compromise. If any such thing is detected it either sends out alerts to the administrators or generates an auto response on its own.
What HPE ArcSight is used for?
HPE security archsight is used for monitoring the various security systems in an enterprise for any potential security threat in real time.

Identify Threats within a span of minutes before they impact the actual systems affecting the workflow.

HPE ArchSight SIEM tool is highly recommended for automating and streamlining the reporting compliance.

HPE security ArchSight is vastly used by enterprises to detect the triggers and indicators of threats which otherwise cannot be detected.

Given its advanced technology, HPE ArchSight SIEM tool greatly improves the efficiency of enterprises in handling activities.

With the help of HPE security Archsight tool the visibility to event management is increased. Without jeopardising the costs you can have a customised view of the detailed threats.
Schedule a demo with us
You can connect with us for live product Demo and more information
Arcsight SIEM Architecture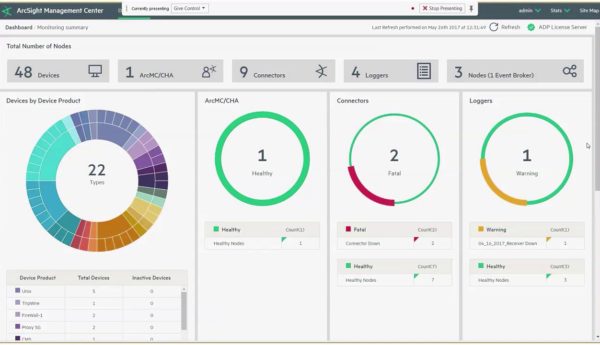 HPE ArcSight SIEM Tool Video
Request a Demo
eSec Forte Technologies is an Cert-In Empanelled | CMMi Level 3 | ISO 9001:2008 | ISO 27001-2013 certified Cyber Security and IT Services Company, Having headquarters in Gurugram, Mumbai, Bangalore, Delhi & Durgapur – India. We are Value Added Partner of Microfocus
Request Demo
HPE Arcsight SIEM Tool Features:
Customer reviews
"eSec Forte is our standard. Whenever an cyber security services is needed, the answer is always, let's start with eSec Forte."
"There is absolutely no impact on the performance or usability of applications. I am very excited at how easy the solution is to deploy and always performed flawlessly. by eSec Forte"
Why HPE ArcSight?
HPE Archsight security tool provides complete protection to your data and reveals security events that cannot be detected otherwise. The threats can be detected before they attack the enterprise systems and compromise or disrupt networks. ArcSight tool also provides critical insurance against the attacks that can hamper and damage the organizational data.
HPE ArcSight Pricing
HPE ArchSight siem is a licence-based product and can be purchased based on the needs and requirement. Being suitable for vast enterprises and packed with the best features, it comes with a price tag. The HPE ArchSight SIEM price can be availed directly from their trusted vendors like eSec Forte. We will provide you the complete pricing based on the add-ons and packs you opt for.
We are headquartered in Gurugram, Mumbai, Delhi, Bangalore – India. Contact our sales team @ +91 124-4264666 you can also Drop us email at contact@esecforte.com .
We Want to Hear from You !!
Contact us today to learn more about our products and services.
Contact Us