What is SASE?
Secure Access Service Edge (SASE) is a new enterprise networking technology category introduced by Gartner in 2019. SASE converges the functions of network and security point solutions into a unified, global cloud-native service. It is an architectural transformation of enterprise networking and security that enables IT to provide a holistic, agile and adaptable service to the digital business. What makes SASE unique is its transformational impact across multiple IT domains.
Solving emerging business challenges with point solutions leads to technical silos that are complex and costly to own and manage. Complexity slows down IT and its response to these business needs. SASE changes this paradigm through a new networking and security platform that is identity-driven, cloud-native, globally distributed, and securely connects all edges (WAN, cloud, mobile, and IoT).
With SASE, enterprises can reduce the time to develop new products, deliver them to the market, and respond to changes in business conditions or the competitive landscape.
What is your WAN Transformation Challenge?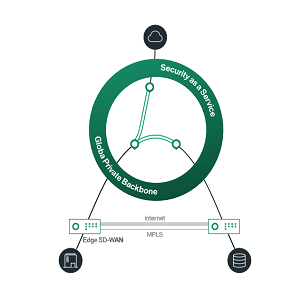 MPLS migration to SD-WAN
Cato enables customers to move away from expensive, rigid, and capacity-constrained MPLS networks to a combination of high-capacity Internet links and the Cato Cloud. Using Cato Socket edge SD-WAN appliances, customers boost usable capacity and improve resiliency at a lower cost per megabit. Customers with a global footprint, leverage Cato's affordable global private backbone to replace global MPLS and the unpredictable Internet. The Cato Cloud optimizes performance and maximizes the throughput to on-premises and cloud applications.
Optimized Global Connectivity
Cato Cloud uses a global private backbone with built-in WAN and cloud optimization to deliver an SLA-backed, predictable, and high-performance network experience everywhere. Customers who suffer from high latency and network inconsistency across their global locations use Cato to deliver a great user experience when accessing on-premises and cloud applications.
Secure Branch Internet Access
Cato provides a complete network security stack built into Cato Cloud. By connecting all branch locations to Cato, all traffic, both Internet-bound and WAN, is fully protected by Cato's enterprise-grade, cloud-based security services. There is no need to backhaul Internet traffic to a datacenter or a regional hub, deploy branch network security appliances, or procure stand-alone cloud security solutions.
Cloud Acceleration and Control
Cato provides seamless acceleration of cloud traffic by routing all traffic from all edges to the Cato PoP closest to the cloud datacenter. Because Cato PoPs share the datacenter footprint of major cloud providers, the latency between Cato and these providers is essentially zero. Cloud application access optimization requires just a single application level rule that determines where cloud application traffic should egress the Cato Cloud. There is no need to install cloud appliances or setup hubs to reduce latency to the cloud.
Mobile Security and Optimization
Cato extends global networking and security capabilities down to a single user's laptop, smartphone, or tablet. Mobile and remote users are no longer treated like second-class citizens of your network and security infrastructure. Using a Cato Client, or clientless browser access, users dynamically connect to the closest Cato PoP, and their traffic is optimally routed over the Cato global private backbone to on-premises or cloud applications. Cato's security-as-a-service stack protects users against threats everywhere and enforces application access control. Unlike legacy VPN, the Cato solution scales globally to support 24×7 access for the entire workforce, creating a viable business continuity plan for working from home.
Intelligent Last-Mile Management
Cato offers customers 24×7 monitoring of last-mile ISPs at each of their sites. In case of an outage or performance degradation, Cato will work with the ISP to resolve the issue, providing all relevant information and keeping the customer informed on the progress. This service helps customers who migrated from a fully managed MPLS network to quickly resolve network issues across their multiple, global ISPs without spending precious IT resources.
Complex or Simple?
Network complexity is overloading IT and slowing down the business. It is time to make the network simple.
Managing complex networks built with multiple third-party products is difficult. And, outsourcing complexity to a telco results in a slow and rigid service. Why? because the telcos, like your IT team, have to manage and support products they don't own or control.
Cato built a cloud-native network from the ground up, as a single, converged cloud service. Because we built it, own it, and run it – service is affordable, changes are quick, expert support is always there, and innovation happens at cloud-speed.
Network Management – Cato provides a single-pane-of-glass for managing networking and security infrastructure.
Real-time Analytics – Cato includes real-time network analytics providing metrics on jitter, packet loss, latency, packet discarded, throughput, and dropped packets for both upstream and downstream traffic.
Zero-Touch Deployment – Without local IT personnel, branch deployments have long challenged IT, requiring remote network and security appliance configuration and personnel visits on-site.
Meshed Topologies and Scaling – Cato's unique architecture allows any network configuration, providing customers with fine-grain control over the sites, cloud resources, and users access to one another.
CATO SASE Price
CATO SASE cost is dependent upon the license you wish to choose as it gives you various options. The detailed SASE price structure can be availed through Value Added Distributor eSec Forte Technologies who are well versed with all the data associated.
We are headquartered in Gurugram, Mumbai, Delhi, Bangalore – India, Singapore, Sri Lanka & Dubai. Contact our sales team @ +91 124-4264666 you can also drop us an email at [email protected].
We Want to Hear from You !!
Contact us today to learn more about our products and services
Contact Us